When:
March 14, 2020 @ 5:00 pm – 6:30 pm
2020-03-14T17:00:00+00:00
2020-03-14T18:30:00+00:00
Where:
The CIA at Copia (The Culinary Institute of America)
500 1st Street
Napa, CA 94559, Napa
CA 94559

Join the women from Wine Country Women of Sonoma County for a sip & signing at The CIA at Copia. Wine and bites from the book will be featured during the event. 
Wine Country Women of Sonoma County who will be in attendance:


Chef Duskie Estes


Winemaker Erica Stancliff


Hospitality Executive Dena Grunt


Artist Sandra Speidel – provided artwork on the cover of the limited edition book


Founder and President of Wine Country Women, Michelle Mandro


About Wine Country Women of Sonoma County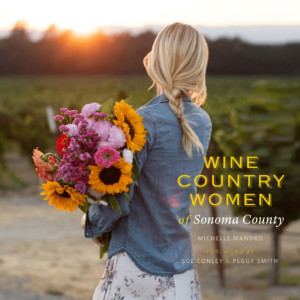 In Wine Country Women of Sonoma County, Michelle Mandro introduces you to the diverse talents of a fascinating group of more than forty women who are making significant contributions to the diversity and quality of life in Sonoma County. Accomplished professionals including Michelin Three-Star restaurateur Katina Connaughton of SingleThread Farm, Kate MacMurray of MacMurray Ranch, Heather Patz of Patz & Hall, chefs and Food Network regulars Duskie Estes and Crista Luedtke, and winemaker Nicole Hitchcock of J Wines, provide an intimate and inspiring glimpse into their life and work. A treasured family recipe, combined with an individualized pairing explanation from each Wine Country woman, makes this book a year-round, go-to guide for both casual and elegant entertaining. 
Enhanced by gorgeous photography that takes the reader on a compelling visual journey, this book captures the soul of Sonoma County. Forging unique paths as tastemakers, entrepreneurs, advocates, trailblazers, nonprofit leaders, and role models, these accomplished women boast skillsets as diverse as the wine regions that have made this area one of the most desirable places to live, work, and play in the United States.