When:
December 7, 2019 @ 6:00 pm – 9:00 pm
2019-12-07T18:00:00+00:00
2019-12-07T21:00:00+00:00
Where:
Due Vigne Winery
35265 Willow Avenue
Clarksburg, CA 95612, Clarksburg
CA 95612

It's back! Our popular Bottle Your Own Wine event at Due Vigne Winery. Come in and bottle your very own wine with your name on the front of the label. Perfect for the holidays; pour your custom bottled wine at a large family dinner, or give this unique wine as a gift to those closest to you. Either way, being a part of the process will be a memory of a lifetime. 
This year, the bottle your own wine is a secrect blend we are calling "Cover Up." By prepurchasing your bottles of Cover Up you can have your name on the front label right next to the words "Lead Detective." Why lead detective? Because you will also have the opportunity to guess the blend throughout the year as you taste the wine. Hints will be provided and all who submit a guess after their investigative tasting will be given $10 off their next purchase of $50 or more. Better yet, the first person to guess the 4 varietals and the percentage of each varietals that make up the blend will be given a wine club membership free for one year!!! Reserve your bottles now to be apart of the coolest investigation of the year. View the label below.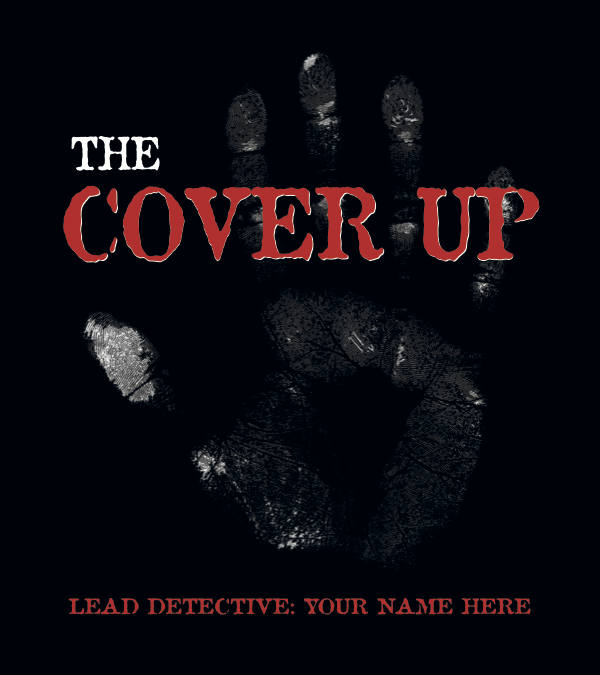 How it Works:
Pre-purchase between 2 – 12 bottles of our newest release "Cover Up." During your purchase, you will designate what name you want on the wine label It will be custom printed for you, so that you can label your wine the night of the event.  When you arrive at the event, you and a guest will recieve a bottle and do everything from corking, foiling, and labeling one of the bottles in your package. (We do the rest.) See the label below to get an idea of how your name will be presented.  You can name your wine whatever you wish as long as it is not over 15 characters. 
About the Wine: The Cover Up is a fruit forward blend with a nice balance of acidity and oak. This medium body blend is the perfect Tuesday night wine or a conversation starter at your next party.  
Pricing:
To secure your wine, the bottles must be pre-purchased. Every pre-purchase includes attendance for you and one guest to participate in the Bottle Your Own Wine event on December 7th. Each purchase also includes a custom name preprinted on the bottle for you to label on the night of the event.

$70.00 – 2 Bottle package ($35/per bottle)
$100.00 – 4 Bottle package ($25/per bottle) – 28.5% OFF!
$120.00 – 6 Bottle package ($20/per bottle) – 42% OFF!
$180.00 – 12 Bottle package ($15/per bottle) – 57% OFF!

All pricing is subject to sales tax of 7.25%.

Please Note:



All attendees and purchasers must be over the age of 21.


All pre-purchases of wine are non refundable.


If you are unable to make the bottle your own event, but wish to still have the wine, you can purchase the wine on Eventbrite and pick up the wine anytime in the month of December 2017 (after December 7, 2018).


We look forward to seeing you there.